Learn The Skills You Need To Thrive In The Digital Economy
Empower yourself with relevant in-demand high-income digital skills required to stay ahead and relevant in today's workforce.
Build a Professional Portfolio
All our courses includes modules that teaches you portfolio building and several capstone projects to help you create your first portfolio.
Align with The Future of Work
Grab hold of the new future of work by endowing yourself with the transformative skills necessary to stay relevant in the future.
Set Your Target For The Future
Position yourself to fit into new opportunities presented by the need for specific skills in the future to support significant changes in business priorities.
Attract High Earning Potential Jobs
Learn a high income skill and make the most of our portfolio building, job readiness and freelancing modules to get high paying job opportunities.
Confidently Change Profession
Gain the confidence you need to make a smart career move by learning a high income skill, creating your portfolio, accessing job offers and freelancing.
Trusted by Students & Partners
In Demand High Income Digital Skills
Empowering yourself with relevant in-demand digital skills is no longer an option, it's a must. Having academic education alone is not sufficient for you to thrive in today's workforce.
Research shows that 60% of graduates have basic digital skills employers might need, BUT when it comes to complex digital skills such as using specialist software only 18% might meet this requirement by employers. You can begin to empower yourself by choosing one of the skills below:
Conversational AI & Chatbots
Endow yourself with the skillset to create AI applications that can personalize customer support availability round the clock. Conversational AI is projected to be the next big job creator globally as companies spending on AI system is at it's all-time high.
Our project-driven data science course is structured to teach you all the modern skills of a Data Scientist. With this certification you can kick start an exciting career in the highly sought after and remunerative field of data science globally.
Learn how to promote product and services for companies with a foundational understanding of how to get the most value for money. Our digital marketing course includes training on: marketing tools, social media marketing, content marketing and SEO.

Great course, I am really enjoying it. It is a great introduction for implementing chatbots on various platforms for absolute beginners. The instructor is very responsive too and replies to questions promptly and accurately.

The course is good and the instructor is very helpful and good at explaining the concepts during the course lectures. As I don't have the Nodejs background, I feel bit scared to code the logic as it is bit heavy and not easy to grasp and understand.

This is an excellent course. Everything is explained clearly and Mr Olumide provided us with extensive knowledge of how to set up a chatbot for Facebook Messenger and how to implement natural language understanding and dialogs using the Api.ai platform.
Drive Innovation at all Levels
We provide professional and adequate training for individuals and groups such as schools, corporate bodies or organisations.
Stop Waiting. Start Learning.
Installment payments available
Verified Certificate of Completion
You can share your Certificate online and offline.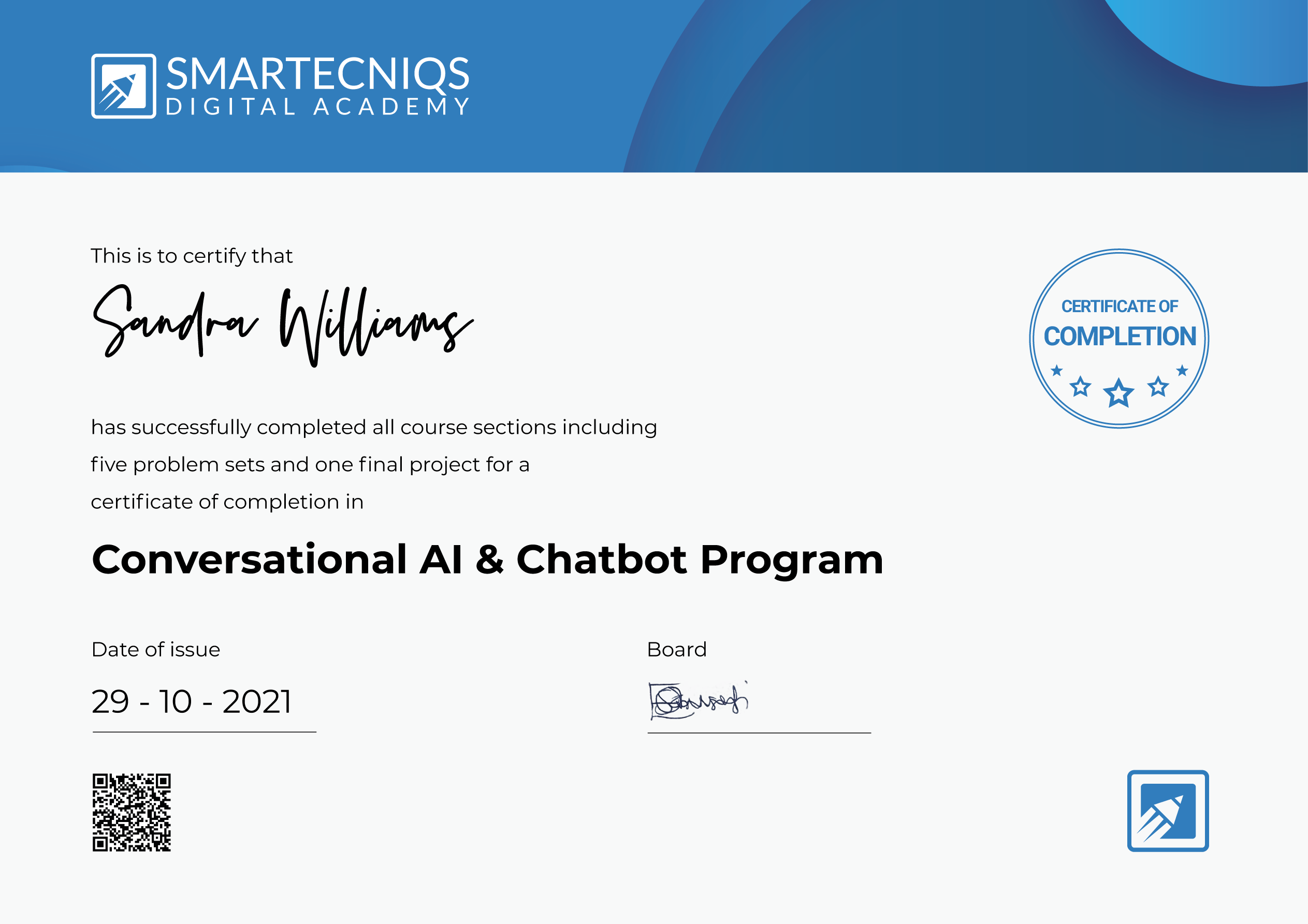 Learn a High Income Skill, Increase Your Earning Potential