Learn The Skills You Need To Thrive In The Digital Economy
Empower yourself with relevant in-demand high-income digital skills required to stay ahead and relevant in today's workforce.
Build a Professional Portfolio
All our programs includes modules that teaches you portfolio building and several capstone projects to help you create your first portfolio.
Align with The Future of Work
Grab hold of the new future of work by endowing yourself with the transformative skills necessary to stay relevant in the future.
Set Your Target For The Future
Position yourself to fit into new opportunities presented by the need for specific skills in the future to support significant changes in business priorities.
Attract High Earning Potential Jobs
Learn a high income skill and make the most of our portfolio building, job readiness and freelancing modules to get high paying job opportunities.
Confidently Change Profession
Gain the confidence you need to make a smart career move by learning a high income skill, creating your portfolio, accessing job offers and freelancing.
Trusted by Students & Partners
In Demand High Income Digital Skills
Empowering yourself with relevant in-demand digital skills is no longer an option, it's a must. Having academic education alone is not sufficient for you to thrive in today's workforce.
Research shows that 60% of graduates have basic digital skills employers might need, BUT when it comes to complex digital skills such as using specialist software only 18% might meet this requirement by employers. You can begin to empower yourself by choosing one of the skills below:
Conversational AI & Chatbots
Endow yourself with the skillset to create AI applications that can personalize customer support availability round the clock. Conversational AI is projected to be the next big job creator globally as companies spending on AI system is at it's all-time high.
Data Science and Analytics
Our project-driven data science program is structured to teach you all the modern skills of a Data Scientist. With this certification you can kick start an exciting career in the highly sought after and remunerative field of data science globally.
Full Stack Web Development
Gain the highly sought after skills to design and develop complete web applications and websites. Our full stack web development program will teach you to become a master of both front end (client side) and back end (server side) portions of web application.
Integrated Digital Marketing
Learn how to promote product and services for companies with a foundational understanding of how to get the most value for money. Our digital marketing program includes training on: marketing tools, social media marketing, content marketing and SEO.

Clear and Informative. I did not just enjoy the program, I liked the classroom aura. In addition to my brief background in coding, I now have a good grasp of the moving parts needed to develop & train a chatbot. Great instructors that replies to questions promptly and accurately.

I loved the delivery of this program from start to finish. The program was an eye opener for me and the instructor was very helpful and good at explaining every section during program lectures. Even though I am new to coding, I felt at ease after the introduction section.

An excellent program. All the program sections was explained clearly and the instructor provided us with extensive knowledge of how to create & integrate a chatbot for Facebook Messenger and other platforms. I also learnt the various implementation and application of natural language processing.
Drive Innovation at all Levels
We provide professional and adequate training for individuals and groups such as schools, corporate bodies or organisations.
Stop Waiting. Start Learning.
Installment payments available
Verified Certificate of Completion
You can share your Certificate online and offline.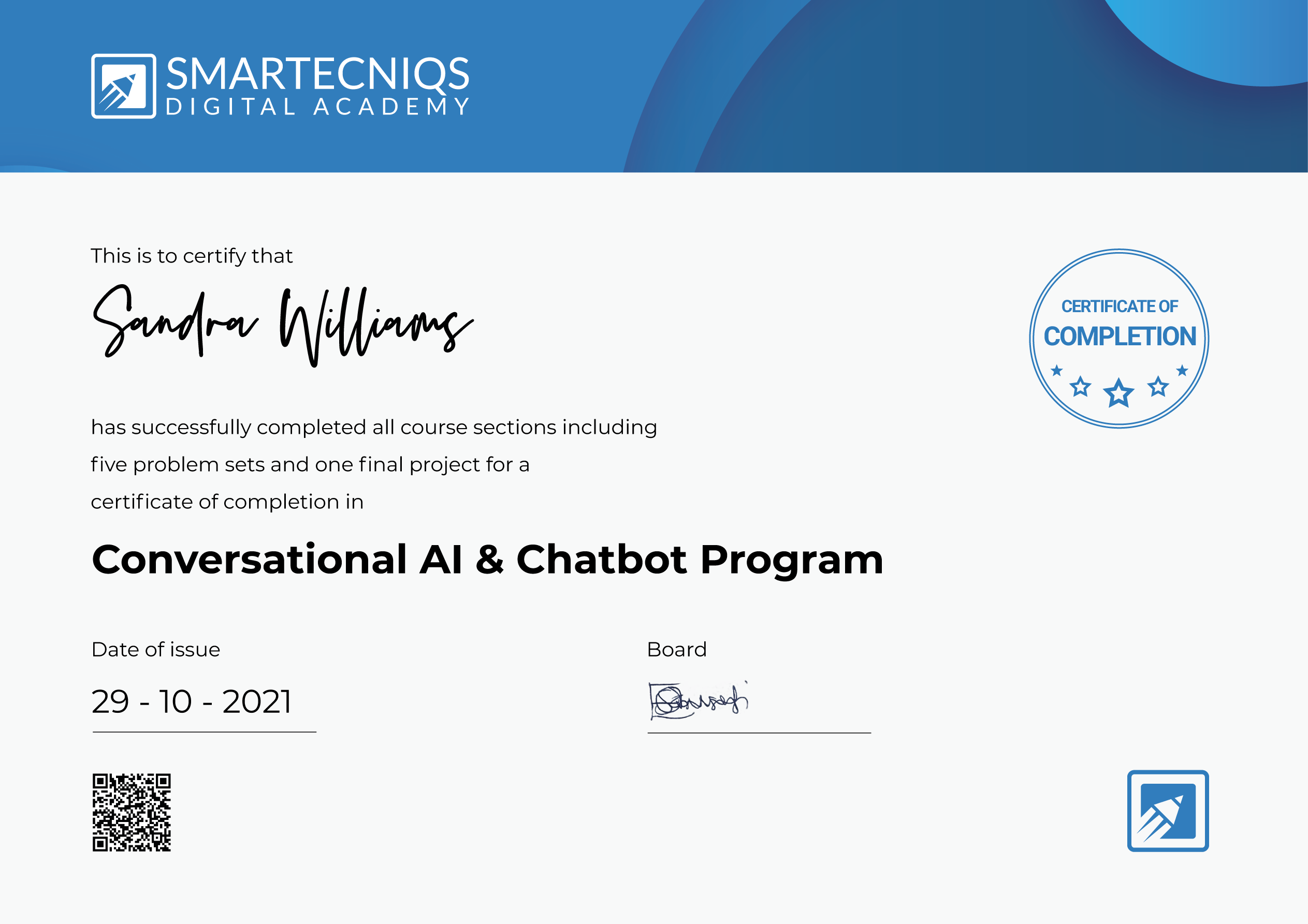 Learn a High Income Skill, Increase Your Earning Potential